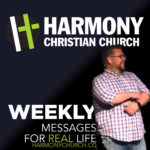 Are you tired of bouncing back and forth from who you are and who you want to be? This week, we turn to the scriptures to learn an entirely different way to move forward into the new you. Help us advance the Kingdom, support our online ministry (harmonychurch.cc/give). Got kids? Check out Harmony Kids online (updated weekly) https://www.harmonychurch.cc/harmony-kids-online/!
——————-
Sermon Notes Slide Key:
Sermons always start with "OPENING ILLUSTRATION:" and end with "CLOSING ILLUSTRATION:"
Red = Scripture slides (reflect formatting of scripture on slides, i.e. – underlines, bold, etc.)
All scriptures are NIV unless otherwise noted
Bold = Slide text
"b" or "B" on a line by itself = Slide break/New slide
Bold ALL CAPS WORDS = heading to be ignored
[some text] = programming notes to be paid attention to
—————————–
OPENING ILLUSTRATION:[have a yo yo on stage – will ultimately need two, one for each service][start playing with yo yo while talking]Yo Yo's are fun, aren't they, I used to know a guy who was a yo yo champion, he could make that thing do anything he wanted…Every few years my kids get one of these and I try to show my mastery, but I always end up hitting things and looking like a goober…
I don't know about you, but one of the things that has been hardest for me about following Christ is the yo yo'ing of my life. It can feel like one minute I'm doing good, and the next minute, I'm struggling with something I felt like I had gotten past.
One minute I'm living the life I think Christ intends for me to be living, the next minute I'm back to my old self…
I'm just like a yo yo…
WE:What is it for you that's the yo yo?-Promised yourself you'd stop yelling at your kids? You were doing well till this morning… -You struggle with gossip, think you've let it go. But you've found yourself getting sucked back into conversations you shouldn't be a part of
We yo yo and yo yoand the result is we just want to give upBThere has to be a better way.
Maybe you thought you were alone in this, you are not – both Christians who are new and who have been following Jesus for a long time struggle with this…
Luckily, the scripture gives us help…Let's go back to the passage we are memorizing:Eph 4:22-2422 You were taught, with regard to your former way of life, to put off your old self, which is being corrupted by its deceitful desires; 23 to be made new in the attitude of your minds; 24 and to put on the new self, created to be like God in true righteousness and holiness.
Paul is giving this advice to the Ephesians because he doesn't want them to go back to the life they just escaped… He wants to stop the yo yo.
Paul's advice is this:
(Paul reminds us that our old self is being corrupted by it's deceitful desires – this is the part of you that longs for power that's not yours, it's the part of you that runs after material things believing they'll bring happiness, it's the part of you that seeks after fulfillment in relationships… Your old self is who you were before you came to Christ…
Make your attitude new
Put on the new self – created to be like God
We are going to address new attitudes and putting on the new self in the weeks to come
Today we are talking about how to Put off your old self…
3 Steps to Taking it All Off1.  The first step to taking off your old self is to recognize that your old self was, and is, polluted with things that are not of God.
ILLUSTRATION:I was having a conversation with a guy one time and he said something that struck me hard.  He said, "when I got baptized, nothing really changed about my life, I was a pretty good guy before I knew Jesus and I was still a good guy…"
I'm sure he's not alone in feeling that.  and it's a huge deception
ILLUSTRATION: I've been talking with my kids as they get older about how they are getting to the age where they have to start recognizing that they don't just do bad things sometimes, but that there is a part of them that wants to do bad things.  
If you never "own" the fact that your old self is corrupted, you will never be truly willing to take it off.
Jesus' message was simple. Mark 1:1515 "The time has come," he said. "The kingdom of God has come near. Repent and believe the good news!"
Repent means to turn from your old life to a new life b Repent requires you to change allegiance from your own self-sufficiency to God's sufficiency
Can I ask you a question? Do you truly believe that apart from Christ your life has disfunction in it?  Do you KNOW at your core that you are a sinner in need of a savior? 
2.  The second step in taking off your old self is you have to actually WANT what Jesus offers
ILLUSTRATION: Dallas Willard, an influential Christian Thinker was once asked who would be in heaven.  His answer was shocking to me, he said "whoever wants to be."  He went on to explain that there are so many people who believe that they can live however they want in the here and now and plan on when they go to heaven that they will just magically no longer have the desires they have on earth.  He said, the reason you still engage in sins on earth is because there is a part of you that still wants that desire.  You still want to sin.  He said, Jesus said the Kingdom of God had come near.  It wasn't something far off, it is both the here and now and the then to come.  And 
His point was, if you don't want the holiness that God offers now, why do you think you will want it then…
Willard said he thought for many, eternity was going to burn – meaning, it was going to be difficult, because they would need to renounce those desires. The real question is, are you ready to die to your old self so you can find the life Jesus offers?
Matthew 16:24-2624 Then Jesus said to his disciples, "Whoever wants to be my disciple must deny themselves and take up their cross and follow me. 25 For whoever wants to save their life will lose it, but whoever loses their life for me will find it. 26 What good will it be for someone to gain the whole world, yet forfeit their soul? Or what can anyone give in exchange for their soul?
Jesus was super clear that the life He offered could not coincide with the life you came to the table with. You must lay down one life to pick up the other
3.  The third step in taking off your old self is you have to return to the truth of who you are and, well, take off your old self…-if you know your old self is polluted-and you truly want the life Jesus offers
The only thing left to do is actually change your desire point and get rid of your old self…
Probably the most influential scripture for me on this has been…Galatians 2:20-2120 I have been crucified with Christ and I no longer live, but Christ lives in me. The life I now live in the body, I live by faith in the Son of God, who loved me and gave himself for me. 21 I do not set aside the grace of God, for if righteousness could be gained through the law, Christ died for nothing!"
When I have felt my old sin nature rising up inside of me, I just remind myself of the truth of my situation.  
The truth is-I'm not a captive to the yo yo'ing in my life-I am no longer the man I used to be-The life I live is now lived by faith – literally, moment by moment saying, "Jesus, I can't do this without you"
The truth is, taking off your old life, requires you to… take it off – to actually move forward into the life Jesus offers.
It means cutting the string that attaches you to the yo yo[cut the string]CLOSING ILLUSTRATION: This morning, I don't have any big moving emotional story – because I want what happens next to be a genuine move of God's Spirit in you.
Some of you need to repent today, some of you need to come forward and take off your old self and leave it at the altar and move forward in faith in Jesus.  
And when you mess up, you need to stand back up and remind yourself of the truth, that you have let that old part of yourself go…  it's not who you are or who you want to be.