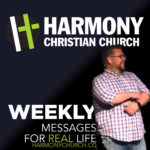 The story of the announcement of the birth of Jesus is breathtaking. Tune in today to make some connections to the past and the future – we are in Section 5 @ https://www.harmonychurch.cc/timeline-of-jesus/birth-preparation/. GIVE TODAY, text any amount to (859) 459-0316 to get started (or give online @ my.harmonychurch.cc/give ).
——————-
OPENING:
Years ago I thought Jenni was dying…  She had just had surgery about a week earlier and she was not getting better.  She was pale and at one point I walked into the bedroom and she was laying on the bed looking like death.  I don't know that I've ever been so scared.  We immediately called the doctor and got an appointment.  We went in and they drew blood to start running tests.  Waiting to get the results back was torture – some of you know what that's like.  Finally, they called us back in for a consult.  I can remember sitting in that room, neither of us talking, both just hoping for anything but the worst…
I'll never forget the doctor coming in… She sat down with a serious look on her face.
She said, "we got your results back…"
My heart stopped beating for a moment
Finally, the doctor leaned in and she blurts out, "You're pregnant!"
I literally almost fainted…
We hadn't even considered the idea that Jenni was pregnant – she had taken a pregnancy test before undergoing the surgery the week before and it was negative. Not only that, but Jen hadn't been sick or anything with our first child – so it never even crossed our mind…
My grandma of course wanted to know if we knew what caused that…
Ha…
That was a crazy way to find out you were about to have another child…
But not near as crazy as the first Christmas story…
LK 1:26-38
26 In the sixth month of Elizabeth's pregnancy
In a couple of weeks we are going to talk about this baby…
Elizabeth is the mom of John the baptist – so when she's 6 months along, Mary is going to have the following happen…
God sent the angel Gabriel to Nazareth, a town in Galilee, 27 to a virgin pledged to be married to a man named Joseph, a descendant of David. The virgin's name was Mary.
This is not the first time Gabriel has appeared in the bible, he is who announced the birth of John the Baptist, but in 538BC this same angel appeared to Daniel…
Daniel is in his 80s, he knows the prophecy in Jeremiah that says the captivity in Babylon will only last 70 years and he's close to the end of that 70 years.  Literally, within a year, Cyrus will make a decree for the Jewish people to begin to be able to start returning home.  Daniel has been praying this prayer of repentance when an angel appears…
Daniel 9:20-22
20 While I was speaking and praying, confessing my sin and the sin of my people Israel and making my request to the Lord my God for his holy hill— 21 while I was still in prayer, Gabriel, the man I had seen in the earlier vision, came to me in swift flight about the time of the evening sacrifice. 22 He instructed me and said to me, "Daniel, I have now come to give you insight and understanding.
The message Gabriel will give to Daniel is almost universally accepted as pertaining to the coming of the Messiah
-People don't agree about exactly what it means – it's probably one of the most confusing passages…
But here's what's significant to me…
We have Gabriel some 530 some years before Jesus' birth foretelling the Messiah coming and dying.
b
Then we don't hear from him again…
b
Until he begins speaking of the coming Messiah again…
Here we have Gabriel greeting Mary, listen to what he says to her…
28 The angel went to her and said, "Greetings, you who are highly favored! The Lord is with you."
29 Mary was greatly troubled at his words and wondered what kind of greeting this might be. 30 But the angel said to her, "Do not be afraid, Mary; you have found favor with God. 31 You will conceive and give birth to a son, and you are to call him Jesus. 32 He will be great and will be called the Son of the Most High. The Lord God will give him the throne of his father David, 33 and he will reign over Jacob's descendants forever; his kingdom will never end."
This is Shocking news
-I thought finding out that my wife was pregnant after a negative test was shocking – this is beyond shocking…  I know for most of you, you've heard this so much in your life you've forgotten how crazy it is.  
Mary is not an old woman at this point, she is probably late teens, maybe early 20s – she's a young woman.  
She's told she will conceive and give birth to a son and call him Jesus
The Hebrew of Jesus' name is actually Yeshua it means, Salvation.
There is so much in this proclamation
– that Jesus would sit on David's throne
that Jesus would be the Son of the Most High – a title for God
He would reign over Jacob and his kingdom would never end…
Here's what I want you to get…
b
You all know this stuff and it all makes sense – you know Jesus will die and raise to life, that His Kingdom is one that exists inside humans – not in a particular land.
b
But Mary didn't…
This would have blown her away…
34 "How will this be," Mary asked the angel, "since I am a virgin?"
35 The angel answered, "The Holy Spirit will come on you, and the power of the Most High will overshadow you. So the holy one to be born will be called[a] the Son of God. 36 Even Elizabeth your relative is going to have a child in her old age, and she who was said to be unable to conceive is in her sixth month. 37 For no word from God will ever fail."
38 "I am the Lord's servant," Mary answered. "May your word to me be fulfilled." Then the angel left her.
I have stood in the church that is built around the cave that they believe Mary was in when Gabriel came to her…  Most of Nazareth is built up on this mountainside and the city in the time of Jesus was tiny, only a few hundred people living there in the stone-cut cave dwellings…  It's a humble place…  
And it's in this place that Mary hears the angel's words – the foretelling of Jesus and she believes and says
"I am the Lord's servant,"
Do you remember at the very beginning of the sermon there was a video with a passage from Isaiah being read? Can I just read you the first part of that again?
Is 53:1
Who has believed our message
and to whom has the arm of the Lord been revealed?
Who believed? Who was it revealed to?
A young woman in a tiny town
She was a nothing nobody – she should have been a blip on the radar of history that no one would ever know about…
b
Except she said, "I am in…"
b
and that changed everything…
There was a reason God chose Mary & Joseph to be the parents of Jesus – Joseph's acceptance of this whole situation was just as humbling…
Jesus' parents were people of deep faith and reliance upon Jesus – they were defined by trust…
I believe God is still looking for simple trust from us, He may not ask you to steward the change agent for the entirety of human history – but He is asking for your whole devotion…
One of the things that has struck me from studying the life of Jesus so much is how singular He was in His desire for devotion from those who followed Him.
CLOSING ILLUSTRATION:
Years ago when I was a youth pastor, I had taken some of my kids who were leaders on a retreat to learn leadership – we did trust falls and low ropes courses, and finally we were going to do some repelling. One of the teenage girls was at the edge of the mountain and I was back with her twin sister sitting up against a rock watching as the guide tried to convince her sister to go over the edge. Her sister wouldn't trust the guide and she was freaking out.. That's when her twin leaned over to me and said, "if my sister dies, I'm suing you for everything you're worth!" I thought, "you have no clue how much youth pastors make…"
Ha
When I saw this video, it reminded me of those sisters…
[Download and play video: https://www.tiktok.com/@shotovercanyonswing/video/7114409010261970177?lang=en]
Let me tell you something… Following Jesus requires you going over the edge with him.
It requires you being all in…
Can I ask you one thing?
b
What is keeping you from going all in with Jesus?
He came to save you from your sins – and the reality is this. when you go over the edge with Jesus and give yourself totally to Him. What you find is that it's not scary – it's like home. You find that the God of the universe who came for us, makes up residence in your heart!