ONline Resources
Stuff to help you Learn to Live for God and Love People
Advance the Kingdom!
Download the FREE e-book resource:
"A Trail Guide to Following Jesus"
Teacher/Group Leader Resources:
Financial Stewardship Resources:
What We Believe:
The Bible
We believe the Bible is the inspired, infallible, inerrant word of God. Given that truth, we believe it is our duty to carefully study what it says and apply it as the supreme and final authority on all matters of faith and life. 2 Timothy 3:16-17
God
We believe that there is one God eternally existing in three persons – Father, Son and Holy Spirit – equal in nature but differing in roles and functions. Acts 5:3-4, Matthew 3:16-17 and John 14:9-10
We believe God is the creator of man and all things. Genesis 1:1, Acts 17:24-28
We believe God the Holy Spirit dwells within every Christian. John 16:5-15
Jesus
We believe that Jesus Christ is God; That He was born on earth as man; That He lived a sinless life; That He died on the cross for our sins; That He rose from the dead; And that He lives today ready and able to forgive those who trust in Him. John 3:16, Matthew 1:18, John 20:24-31
Sin
We believe that man was originally created by God and in his own image, but that Adam sinned, marring that creation and separating us from God. We believe that man today is born with a sinful nature and is destined to be eternally lost without salvation through Christ. Romans 5:12
Salvation
We believe that the gift of salvation is available to all solely by the grace of God through faith placed in Jesus Christ because He paid the complete penalty for the sins of every human being by His death on the cross. Ephesians 2:8-9, Colossians 2:13-14
Any person who desires to be saved by the grace of God is called to confess the reality of their sin, express a commitment to turn away from their sin, and be baptized by immersion, all in the name of Jesus Christ. In response, the bible promises the forgiveness of sin, the gift of the holy spirit, and the promise of eternal life. Acts 2:38
Baptism
Baptism is a command that was given by Jesus to his disciples and is part of the journey to be more like Jesus. Matthew 28:18-20, Matthew 3:13-17
Works
Christians are inspired to good works as an outgrowth of God's saving grace. Because we are children of God and followers of Jesus, we strive to serve others and to witness to the unchurched in hope of bringing them into a saving relationship with Christ. 2 Corinthians 9:8, James 2:26, Matthew 5:13-16
Budget Resource
Do you struggle month to month with your finances?  Would you like to begin saving?  Pay off debt?  Begin tithing?  One of the most helpful things you can do is to sit down and work through a budget.  We want to provide this practical resource to help you get ahead as an example of how you can budget your money and start to create a plan.  Download our online budgeting tool (a Microsoft Excel file).
Get Free Guidance from Crown Financial Resources
Contact Crown Financial Resources Today
Phone:  800-722-1976
Email: [email protected]
Financial Coaching
(from Crown Financial)
Would you like to learn how to get out of debt?
Learn how to save in order to buy your next car with cash?
Be able to help your kids with college or to personally retire well?
What about being in a financial position where you could help make a difference in the Kingdom?
Often times we know we need help with our finances, but we don't have any idea where to start.  That's why we've partnered with Crown Financial to offer you Financial Coaching for only $39.95.
What you get
Personal Budget Coach
Budget Coach Client 6-Part Course
Access to QUSE Budgeting App
Access to numerous other financial educational resources & tools
Get started today and transform your personal finances!
A Trail Guide to Following Jesus
Mapping Out Tough Questions of Faith for Followers of Jesus
Need to jump-start or revive your relationship with Jesus? This trail guide is written in a refreshing way to help anyone, from the novice to the advanced Christ-follower, fall more deeply in love with Jesus and join Him in the mission of helping people find their way back home to God!  Download your FREE copy of "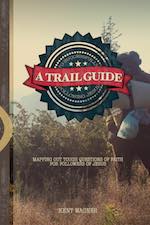 A Trail Guide to Following Jesus" today!
"How do I read the bible?"

"What happens if I mess up and sin?"

"I'm worried I'm going to stop feeling this way about God, what can I do?"
These are the kind of big questions every follower of Christ wrestles with. Inside this Trail Guide you will find helpful, practical answers to these questions and more weaved together with real life stories to help take complex ideas and make them meaningful and impactful in the places you live and work.
Download our FREE resource, "A Trail Guide to Following Jesus"
Matthew 28:18-20 (NIV)
"18 Then Jesus came to them and said, "All authority in heaven and on earth has been given to me. 19 Therefore go and make disciples of all nations, baptizing them in the name of the Father and of the Son and of the Holy Spirit, 20 and teaching them to obey everything I have commanded you. And surely I am with you always, to the very end of the age."
Finding your Value in What God Thinks of You:
So many of us struggle with a sense of self-worth, we let the world define for us who we are and how we think about ourselves.  If you have ever struggled with not feeling good enough for God, then download this resource to look at what it is that God thinks about you and start a journey of renewing the way you think and talk about one of His children (you).
The Promises of God:
The scripture says that all of God's promises are "yes" in Christ Jesus, but if you don't know those promises it's hard to let them be an important part of your life.  Download our resource, The Promises of God, today to have an easy reference guide to God's promises.
Teacher Qualifications:
Being a teacher is one of the greatest gifts anyone can give or receive.  Teaching allows you to open a world of opportunities to those you lead and can make an eternal impact through the relationships you build.  Because being a teacher is such an important position to hold, we do have some basic qualifications that we look for in a teacher at our church – as James 3:1 says, teachers will be judged more harshly so we do our best on the front end to protect those who might not be ready for a deeper level of scrutiny.
5 Teacher Qualifications*
All our Harmony Kids teachers (and workers) will

 

undergo a Security Background check**
Our teachers must be

 

living lives worthy of replicating

Not addicted to alcohol or drugs
Not using coarse language
Not sexually engaging with someone other than their spouse (this includes living together outside of marriage)

Our teachers must be a baptized follower of Christ and actively

 

growing closer to Jesus
Our teachers must be

 

relationally intelligent

 

(we care about others and treat them with kindness)
Our teachers must be

 

teachable

 

themselves (humility is the hallmark of a great leader.  We are looking for individuals who are teachable and willing to realize that everyone has something they can teach others)
*Teachers are approved at the discretion of ministry staff and elder.
**Any conviction of criminal activity involving a minor will preclude any and all participation in kid & teen (birth-18 year) activities at Harmony Christian Church.  We encourage those with a history involving such convictions to find other ways to volunteer and make a difference.  Our aim with this policy is both to protect children and to protect the individuals looking to serve.
So, what if I'm not sure I match up to these qualifications?
We get it.  Some of us have come out of challenging circumstances and still have some old muscle memory left in us from our previous way of life – there was a time when I would have been disqualified from teaching due to some lifestyle choices I was making.  While we believe that those we lead are worthy of our best, we also don't believe that you should be totally disqualified from serving just because you don't have it all together.  There are a lot of areas for service that are not near as upfront and scrutinized as a teaching position in our church.  We would love to have you start serving as a greeter, or helping with maintenance around the building, you could serve on our security team, or help follow up with new people.  There are a lot of ways to get involved and get going, the best way is to simply contact someone from our team and let them know you are interested in finding a place to serve.