"The King will reply, 'Truly I tell you, whatever you did for one of the least of these brothers and sisters of mine, you did for me.'"
-Matthew 25:40
Looking To Help?
Contact Taber Walls
Disaster Relief Coordinator 
(859) 619-0294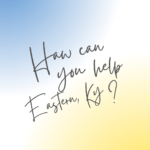 Hi Everyone!
We are still collecting supplies for Eastern, KY!
Same things we were collecting last week! You can bring them to the church this morning during services!
Pillows
Blankets
Air Mattresses
Towels
Personal Hygiene Products (travel size preferred)
Bottled Water
Nonperishable Food
Mops
Shovels
Diapers
Gloves
We have had needs for clothing, and I am currently trying to figure out the best way to approach handling and organizing those types of items; because I don't want to drop them off unorganized & cause more work on the people there!
Thank you all for all your help so far!
Matthew 25:31-40
31 "When the Son of Man comes in his glory, and all the angels with him, he will sit on his glorious throne. 32 All the nations will be gathered before him, and he will separate the people one from another as a shepherd separates the sheep from the goats. 33 He will put the sheep on his right and the goats on his left.
34 "Then the King will say to those on his right, 'Come, you who are blessed by my Father; take your inheritance, the kingdom prepared for you since the creation of the world. 35 For I was hungry and you gave me something to eat, I was thirsty and you gave me something to drink, I was a stranger and you invited me in, 36 I needed clothes and you clothed me, I was sick and you looked after me, I was in prison and you came to visit me.'
37 "Then the righteous will answer him, 'Lord, when did we see you hungry and feed you, or thirsty and give you something to drink? 38 When did we see you a stranger and invite you in, or needing clothes and clothe you? 39 When did we see you sick or in prison and go to visit you?'
40 "The King will reply, 'Truly I tell you, whatever you did for one of the least of these brothers and sisters of mine, you did for me.'