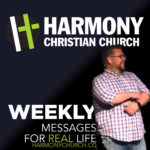 This is part 2 of our 2 part sermon on the enemy the Satan.  This week, Kent dials in on how to tell if what you are experiencing in life is spiritual warfare or just some bad pizza you ate last night? .  Tune in to grow in your thinking on this topic. When you give at Harmony, you are investing in life change and are Advancing the Kingdom!  GIVE TODAY, text any amount to (859) 459-0316  to get started (or give online @ my.harmonychurch.cc/give .
——————-
Sermon Notes Slide Key:
Sermons always start with "OPENING ILLUSTRATION:" and end with "CLOSING ILLUSTRATION:"
All scriptures are NIV unless otherwise noted
Bold = Slide text
Bold Red = Scriptures (please reflect formatting of scripture on slides, i.e. – underlines, italics, etc.)
"b" or "B" on a line by itself = Slide break/New slide
Bold ALL CAPS WORDS = heading to be ignored
[some text] = programming notes to be paid attention to
---
OPENING ILLUSTRATION: When Jenni and I were church planting years ago, I was really struggling.  I didn't know who to turn to, to talk about it all with.  I finally took the advice I had given a lot of people and I went to see a Christian counselor.  I sat down on his couch and when he came in I was like, "what am I supposed to do, tell you about my childhood or something?"  He was like, let's just talk, what's brought you in today?  I started talking to him and at the end, he paused and just asked me a question.  He said, 
Kent, what do you believe about spiritual warfare? If you are not familiar with that terminology, it's the way a lot of Christians talk about the battle that goes on in the spiritual realm.
I was honest with him and said, "well, I believe it's real, but I don't act like it."
That day, I left his office realizing I had been walking through a rainstorm in my life with my umbrella down.  
It is not that everything you and I experience is spiritual warfare, but I believe more of it is than we realize.
so, today, I want to give you 3 quick tools to help you identify when you may be facing a spiritual engagement by the enemy.
1.  What is the fruit in your life? God works in fruit that leads to life (conviction) – Satan works in fruit that leads to death (condemnation). ask yourself – is what is happening in my life causing me to feel condemnation?  Like I'm a failure, I can never get this right, I'm a terrible person, how could God ever love me?
That's NOT from God.  They are the fruit of evil spirits.
Romans 8:1 Therefore, there is now no condemnation for those who are in Christ Jesus
 2 Corinthians 7:10 Godly sorrow brings repentance that leads to salvation and leaves no regret, but worldly sorrow brings death.
Conviction will lead you toward Jesus as your salvation, Condemnation will lead you toward your failure and oppression

2.  Truth or Lie? Satan's primary tool in the life of humans is the power of lies and our decision to agree with those lies.
John 8:44 You belong to your father, the devil, and you want to carry out your father's desires. He was a murderer from the beginning, not holding to the truth, for there is no truth in him. When he lies, he speaks his native language, for he is a liar and the father of lies. 
ILLUSTRATION: Did you know every thought that enters your mind is not always worth trusting?  One of the things you need to begin to do is actually assess if what you are thinking is truth or a lie.  
The enemy's language is lying.  His lies are always almost truth or half-truths.  Let me share one with you.
ILLUSTRATION: The other day, I'm working on replacing our brake pads and rotors.  I've got the rotors off, turns out I had ordered the wrong size.  I started to get really frustrated.  I go to put it all back together and I can't get it together.  I'm really mad at this point, slamming stuff down saying thinking all kinds of things I want to say.  And then these words come out of my mouth…  "How come I can't do anything right…"
That's not truth… Even now, it strikes a chord in me.  It is the underlying fear in my life that I'm going to be a failure for people or at things.
The truth is, I can't do some things right, but I could learn them, and that God's opinion of me has NOTHING to do with what I can and can't do.
But that's not what the enemy wants me thinking on.
You cannot combat a lie without knowing the truth.  Some of you are being batted around, drenched in the rain simply because you have never stepped up to start learning the truth.  This is why reading the scripture, being in God's word is SO vital.  To learn to think like Jesus thinks.

3.  When all other options have been exhausted, consider the spiritual-is there a medical or psychological diagnosis and treatment that can provide relief? Start there. – Even when Jesus healed people, He was manipulating the physical mechanics of their bodies in order to heal them – at a molecular level He was intervening.
There is clearly a call in scripture to pray for those who are sick and that there are times when some physical ailments have a spiritual root.
1 Cor 11:29-31 "29 For whoever eats and drinks without recognizing the body,[a] eats and drinks judgment on himself. 30 This is why many are sick and ill among you, and many have fallen asleep. 31 If we were properly judging ourselves, we would not be judged,"
James 5:13-15 "13 Is anyone among you suffering? He should pray. Is anyone cheerful? He should sing praises. 14 Is anyone among you sick? He should call for the elders of the church, and they are to pray over him, anointing him with oil in the name of the Lord. 15 The prayer of faith will save the sick person, and the Lord will raise him up; if he has committed sins, he will be forgiven."
But let me caution you, be careful with this diagnosis.  For Christian leaders – this is our LAST option, not the first.
CLOSING ILLUSTRATION: So, what do you do with all of this…  If you are dealing with spiritual attack, how do you stand against it?
Ephesians 6:10-18 10 Finally, be strong in the Lord and in his mighty power. 11 Put on the full armor of God, so that you can take your stand against the devil's schemes. 12 For our struggle is not against flesh and blood, but against the rulers, against the authorities, against the powers of this dark world and against the spiritual forces of evil in the heavenly realms. 13 Therefore put on the full armor of God, so that when the day of evil comes, you may be able to stand your ground, and after you have done everything, to stand. 14 Stand firm then, with the belt of truth buckled around your waist, with the breastplate of righteousness in place, 15 and with your feet fitted with the readiness that comes from the gospel of peace. 16 In addition to all this, take up the shield of faith, with which you can extinguish all the flaming arrows of the evil one. 17 Take the helmet of salvation and the sword of the Spirit, which is the word of God.

How to "put up your umbrella" and stand against spiritual attack:
Recognize the battle isn't with people (vs 12)
Choose to stand (vs 13)
Put on your armor (vs 13-17)

Belt of truth
Breastplate of righteousness
Shoes of spreading the gospel
Shield of Faith
Helmet of Salvation
Sword of the Spirit – the word of God (your weapon)
If some of you will take this seriously it could change your mental health, change your marriage, change your friendships, change the anxiety you are constantly feeling. It could change your lack of focus and your fear. It could change almost everything…
While I'm a fool a lot and don't use my umbrella a lot of times in the rain, guess what, my wife Jenni is the opposite. She almost ALWAYS has an umbrella. It's kind of a running joke how many umbrellas we have. But guess what, my wife hardly ever gets wet in the rain.
What will it take for you to start putting up your umbrella?
————–